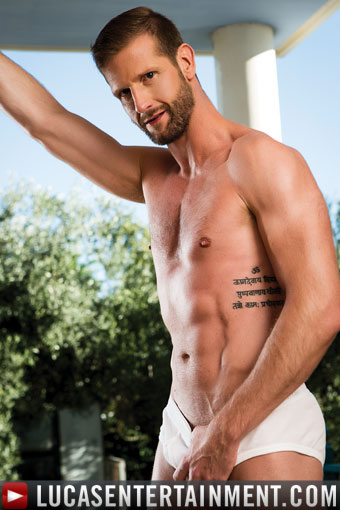 How has your overall experience been with Lucas Entertainment?
My overall experience with Lucas Entertainment has been amazing. Everyone on staff acts professionally. Even though it's a big company with many great looking models, they still give you all the attention you need.
How have you felt about the communication?
The communication is very clear and concise. Lucas Entertainment uses all the available forms of communication to help with any questions I had and they are very up to date on things.
How did you feel about your screen direction when shooting?
I was very nervous prior to my first shoot with Lucas Entertainment. I have worked with other companies before but I felt inexperienced since Lucas Entertainment is one of the biggest producers of adult entertainment. The whole team is amazing and made me feel at ease quite quickly. Preparation for every shoot was really clear. Michael knows exactly what he wants and his crew knows exactly what Michael wants.
How was it to work with Michael Lucas?
It was a great experience. I have deep respect for Michael! He is on top everything and he never ever shows any stress.
How was it to work with the Production Staff?
Amazing. They are truly passionate about what they do.
How do you feel about Lucas Entertainment's PR and Marketing?
The website and social media is updated on a daily basis and they have a lot of good connections have a lot of good connections with fans, bloggers and many others.
View Profile at LucasEntertainment.com