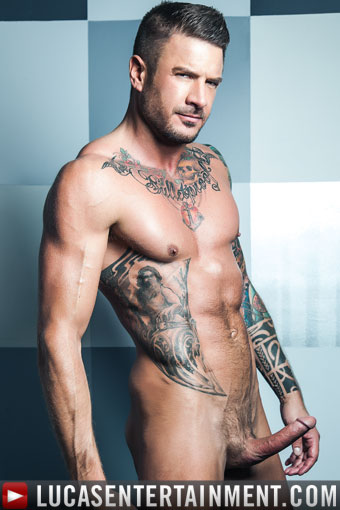 How has your overall experience been with Lucas Entertainment?
Overall, my experience with Lucas has been great. I am looking forward to working with Michael and his staff again.
How have you felt about the communication?
Whenever I need a question answered immediately, Michael and his staff have been available to me. Having worked with many major studios, I find Lucas Entertainment sets the bar when it comes to communication with models.
How did you feel about your screen direction when shooting?
Lucas Entertainment's screen direction is very direct and professional, yet allowed me to bring my own artistic and sexual freedom to the scene. I was always treated with courtesy and the utmost professionalism.
How was it to work with Michael Lucas?
Great! Michael is full of energy and creativity; he made being on set for long hours bearable, and whenever energy levels began to dip, he always knew how to bring the scene back to the hot, exciting sexual energy levels that his product has become known for.
How was it to work with the Production Staff?
I enjoyed working with the entire production staff at Lucas Entertainment. They all knew exactly what the deliverables were and how to help me achieve them.
Were you happy with your scenes and the way they were promoted?
Very much so. My scenes were promoted globally and often.
How do you feel about Lucas Entertainment's PR and Marketing?
Love these guys. They helped my and my partner Drew Sebastian set up our Lucas Web Cam chat room to interact with our fans and help us promote our brand. The PR and Marketing team has also always been there for me when I need materials for appearances, etc.
View Profile at LucasEntertainment.com